Near the end of April I took a look at Google's new Docs and Sheets mobile applications that had been spun off of the Google Drive application. I felt that Google was really trying to create a separate brand for their office application suite. The main complaint about Google's applications has always been that they can't work with Microsoft Office file formats which are commonplace in the industry. In 2012 Google had acquired the office suite Quickoffice which did support editing Microsoft Office documents and it was hoped that the ability to do that would eventually be integrated with Google's Docs, Sheets, and Slides programs. Today at Google IO that is being realized as reality with Google announcing that their office applications now work seamlessly with Microsoft Office document formats.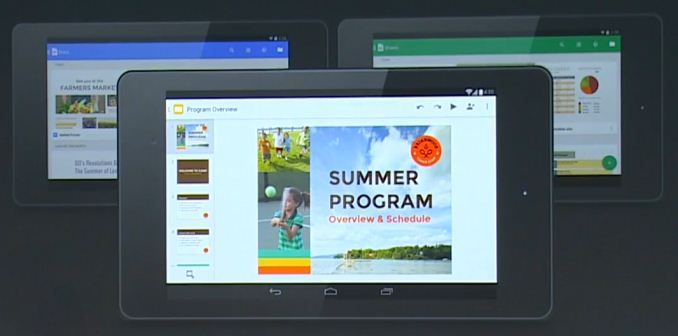 Google has also finally released the long awaited Google Slides application for iOS and Android allowing users to create slideshow presentations from their smartphones and tablets. We'll be taking a look at the new Slides app on Android and iOS later today.

Google also took some time to talk about Google Drive in the workplace. Google Drive for Work provides enterprises with encryption for files both while in transit and when stored on their servers. Pricing for companies that switch to using Google Drive and Google Docs is just $10 per user per month for unlimited storage. Google has been successful in moving into the enterprise world with their cloud tools. They state that 67 of the top 100 startup companies are using the Google Drive platform, along with 58% of the fortune 500 companies and 72 of the top 100 universities. It will definitely be interesting to see how Google's cloud services and branding continues to evolve as time goes on.