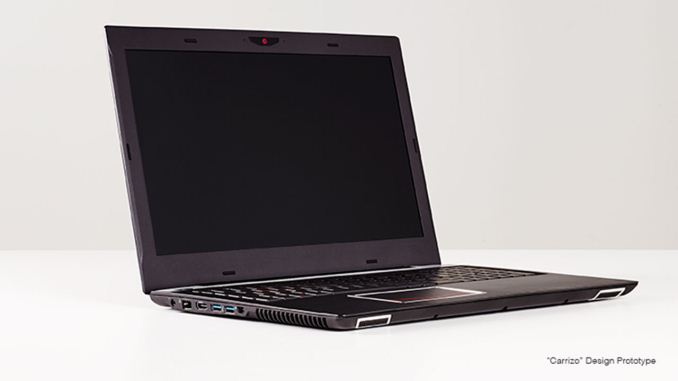 In our visit with AMD we got to see something I wasn't really expecting: a functioning Carrizo laptop. (Note that AMD wouldn't let us take pictures, but they did provide some pictures for us to use.) AMD apparently only received initial silicon back from the fab a few weeks back, and they already have a laptop up and running with the early hardware. In fact, not only did they have a functioning Carrizo laptop but they also had several other working Carrizo systems running Windows. Of course, last year AMD had Kaveri up and running and that launched about five months later, so we're a bit earlier than that for Carrizo but it's coming along nicely.
One of the features of Carrizo is full support for H.265 decoding, and as an example of why this is needed they had an Intel system running next to the Carrizo system attempting to playback a 4K H.265 video. While the AMD system was easily able to handle the task without dropping any frames, the Intel system was decoding at what appeared to be single digit frame rates. The 4K content was essentially unwatchable on Intel. Of course that's easy enough to remedy by adding an appropriate GPU that can handle the decoding, but AMD's point is that their APU on its own is able to do something that a high-end Intel CPU cannot do without additional hardware.
As far as other aspects, we do not have any details on the system specifications or expected final clocks. I did see the clock speed of the prototype laptop, but it's certainly not final so there's not much point in going into more detail. AMD also indicated that their eventual goal is to have the prototype laptop equipped with a discrete GPU for Dual Graphics support, but that isn't in the current prototype.
In terms of using the system, we were unable to run any benchmarks or really do anything more than open Windows Explorer and the system properties. Given this is early hardware there are sure to be some kinks to get worked out over the coming months. AMD is still on track for a Q2/Q3 release of Carrizo, and we're looking forward to seeing what the Excavator core can do in terms of performance. Also note that the GPU will be "Next Generation" GCN (from the redundant department of redundancy?), with support for DX12. It should be an interesting fall when Carrizo ships.