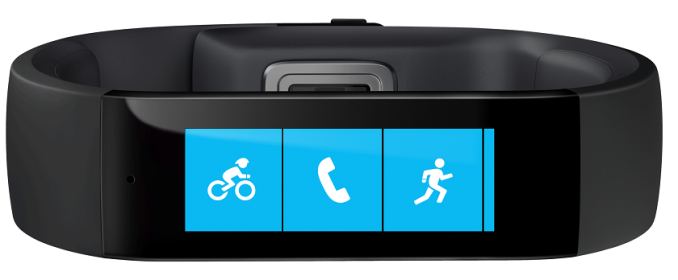 Today Microsoft launched a new update to their fitness wearable, Microsoft Band, and also to their health platform and smartphone app, Microsoft Health. These updates broaden the capabilities of features of each by integrating with third party apps and services, implementing new health insights (analysis), and enhancing the Microsoft Health app to now work stand-alone without a paired Microsoft Band.
The new update enhances the bike activity tile added in Feburary to now integrate with activity tracking apps Strava and MapMyRide. After this update is installed, the Strava and MapMyRide apps can harvest activity data from the Microsoft Band. Microsoft does not state if this data harvesting is continuous or a one time download after an activity is complete. Personally, I believe Strava integration is a huge boon to the Microsoft Band. In my experience, many members of the cycling community use Strava and cylcing computers to track their rides. My brother, an avid cyclist, has mentioned interest in the Microsoft Band, but without Strava integration he continued to rely on a cycling computer and a chest mounted heart rate monitor.

Microsoft's cloud analytics platform, Microsoft Health, has also been updated to provide new "Insights" into the body and health of an individual. These new insights are available via the web dashboard starting April 27th and are listed below:
Comparative Insights: Measures data such as daily steps, sleep, workout frequency and calorie burn and compares it to similar Microsoft Health customers based on body type (height and weight). Customers looking for motivation can use comparative insights as a benchmark to understand their health relative to similar people.
Sleep Recovery: Good sleep is the foundation of health, and something everybody does and needs. Microsoft Band tracks the length and quality of sleep. Use the Microsoft Health web dashboard to analyze sleep restoration, sleep efficiency, and wake-ups, to find out how well the body restores its resources during sleep.
Fitness Benefit: Track fitness progress using historical data to measure improvement over time.
VO2 Max: VO2 max refers to the maximum volume of oxygen used during exercise, and is the primary indicator of cardiovascular fitness. Traditionally, measuring VO2 Max is cumbersome. Not anymore. Microsoft Band estimates VO2 max based on heart rate information. Now customers can track how their VO2 max increases as they improve fitness level and achieve their wellness goals, simply.
Run/Exercise Observations: Get more out of run and workout data with in-depth observations and insights. With a week of data, customers can determine which day of the week and at what time of day they perform best. Using historical data from as far back as five weeks, customers can track whether they're maintaining, progressing, or need to re-dedicate themselves. Analyze detailed stats to find specific aspects of runs and workouts that can be improved.
Particularly interesting is the VO2 Max calculation. This analysis is traditionally performed by specialized equipment, typically as a paid service at a gym. Microsoft has always stated their cloud platform will provide innovative analysis, and if this Insight is close to the traditional VO2 Max measurement, then Microsoft has delivered. Additionally, I personally appreciate the historical and comparative analysis as it provides a great motivational tool.
Finally, Microsoft will update the Microsoft Health smartphone app on all platforms in the coming weeks to provide activity measurements directly, without use of a Microsoft Band. On the surface this is a surprising development, as it is in Microsoft's best interest to sell hardware. However, upon further thought this makes sense. Microsoft can provide a limited set of analysis using the smartphone sensors, engage the user into Microsoft Health services and offer the Microsoft Band as an up sell for more complete activity tracking. Device support is limited to smartphones with a dedicated microcontroller co-processor for sensor data, which is most modern devices.
iOS: iPhone 5s and later
Android: Android 4.4+ with support for Step Counter API
Windows Phone: Lumia devices with Sensor Core V1+ and Cyan Firmware
Some of these updates are available today, such as the biking app integration, while others will roll out over the next few weeks.
Source: Microsoft