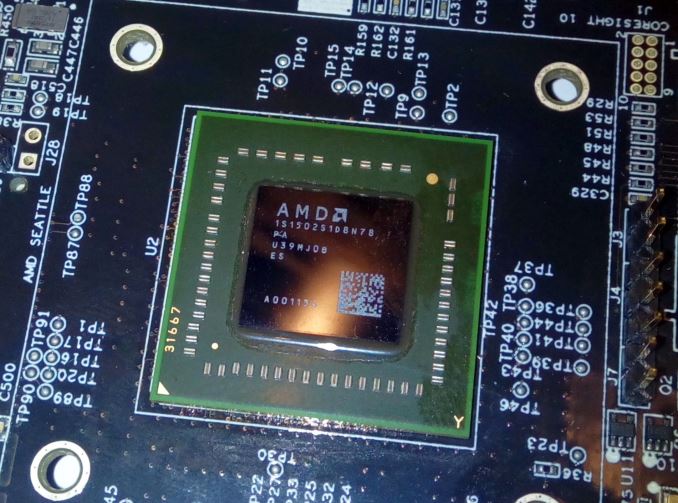 Anyone loosely following AMD's efforts with ARM intellectual property would have had on their periphery the noise of the A1100 product aimed at servers, codenamed Seattle. The idea was to use AMD's back-end expertise to produce a multi-core ARM chip based on eight A57 cores for server and professional embedded systems, supporting up to 128GB of RDIMM memory and two 10GBase-KR Ethernet ports. The secret sauce of the processor is in the co-processors – a cryptographic one to offload dedicated acceleration of encryption/decryption or compression/decompression, and a system control co-processor that focuses on security and acts like a 'processor within a processor' with its own Ethernet connection, RAM, ROM and IO connectivity for remote management and sensing.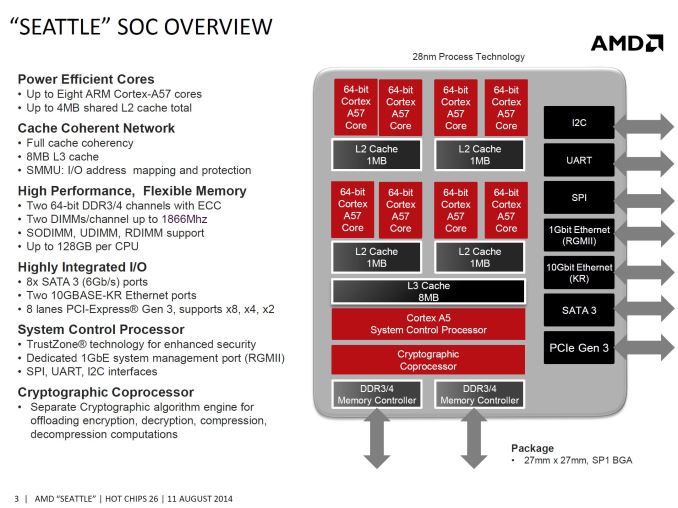 The AMD A1100 – Steven's piece last year goes into a lot more detail.
The chip was designed to be the 'scale-out' ARM part that Calxeda attempted to produce with Cortex A9's, but only marginally edged out a dual-Xeon running virtual machines – the step up to a more powerful core was vital to attack this element of the industry. Despite Calxeda's attempts at dense web-server traffic requests, AMD is focusing more on the data center where it feels this chip is more suited for. So even though there have been many delays with the hardware, missing its original time-to-market window by at least nine months, I finally got to see the silicon for my own eyes.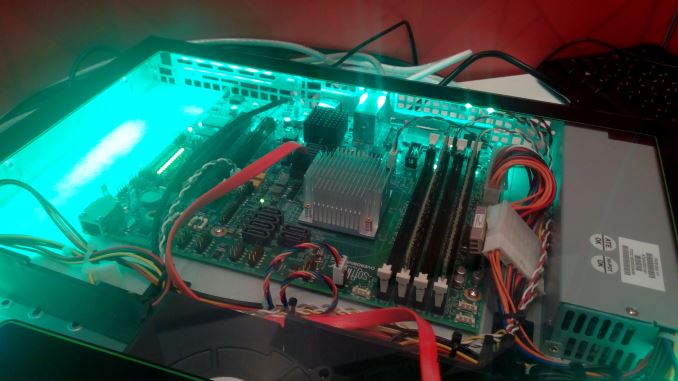 Starting with the platform it is in: this is the SoftIron Overdrive 3000. The silicon has access to eight SATA ports and eight PCIe lanes by default, along with a dual-channel memory controller, but what was interesting in this device was that there are six other SATA ports but no extra controllers. I quizzed the ARM personnel around the product and they said that a future chip might support more SATA ports, so this was almost a long-term drop-in PCB so for the second generation it doesn't need a redesign. But this mini-server design is meant for that simple integration into a rack as an ARM development platform or connecting ARM to an accelerator/storage subsystem.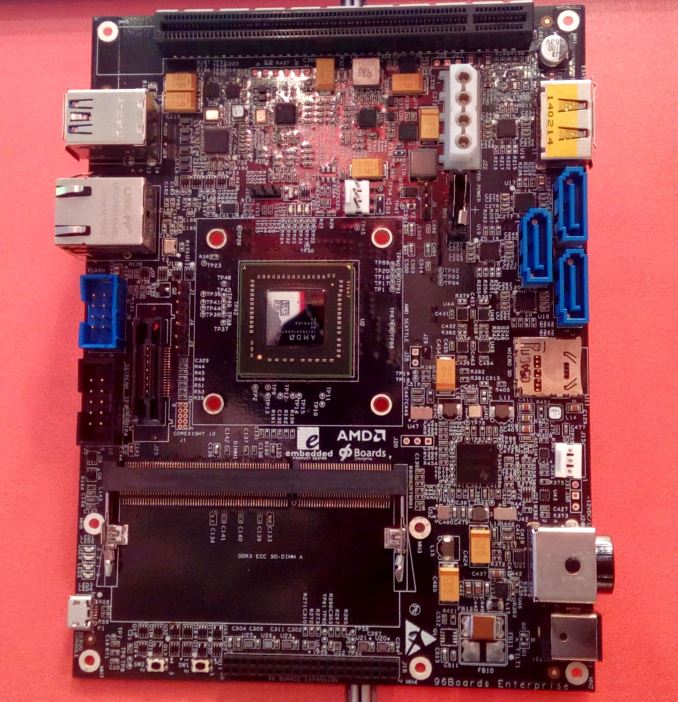 We also had the HuskyBoard from 96Boards on display, aimed at the embedded development market with the same A1100 silicon in the center but with access to a slot of memory on each side (one on the rear), various power options (seems like DC-In and Molex) and a full PCIe 3.0 x8 slot. This almost looks like one of the maker boards we commonly see with other ARM based solutions.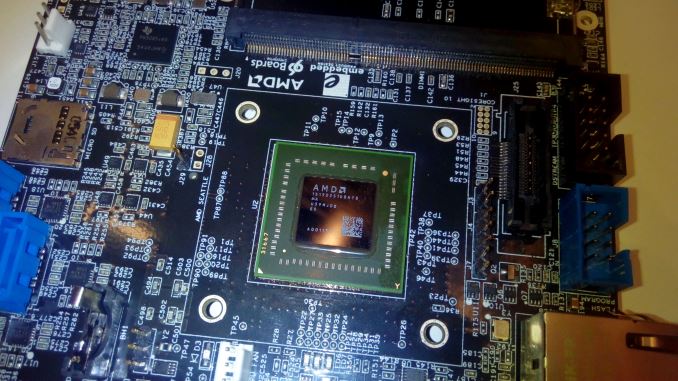 There we go, it exists! Speaking to other people in ARM, they are actually quite pleased that it is now in production, and they are also impressed with the internal metrics they are seeing from it. The march on ARM for server and embedded has been fraught with peril if you go too big too fast, but I wonder how many resources AMD is still putting into this project rather than their core business units.